Chapter 88
Because of the challenge involved in trying to keep the time zones straight, I've labeled each scene with the day and approximate time in both Sydney and San Francisco (or New York). As we join William, his sixth day in Sydney has just begun. He arrived last Thursday morning after spending all night on the plane from LA and crossing the International Date Line.
Tuesday morning (Sydney) / Monday, early afternoon (San Francisco)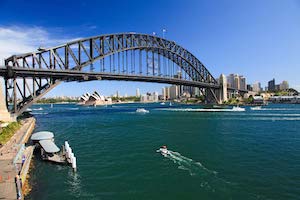 William leaned against the railing of his balcony, the slanting rays of the morning sun caressing his face like warm, invisible fingers. Sunlight skipped across the harbor, gilding tiny ripples and eddies in the otherwise placid waters that sloshed against the rocks below.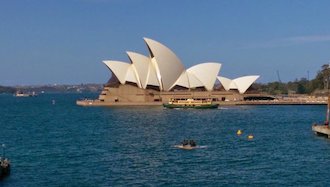 His suite had two balconies, but this one offered the best view: the Opera House presiding over Sydney's waterfront like a great white ship, its sails flying before the wind. For a moment he imagined himself as Balboa or Ponce de Leon, or even Admiral Lord Nelson, standing on the bridge of a frigate just after sunrise, soaking in the fragile beauty of a newly minted day. Like them, he scanned an unfamiliar landscape thousands of miles from home. But unlike the admiral or the Spanish conquistadors, William navigated his deep waters in solitude.
He sipped his coffee, delivered a short time ago along with the rest of his simple breakfast. Stubble rasped against his thumb as he absently rubbed his jaw, performing the mental arithmetic. The letter should have arrived by now. Guaranteed delivery by ten thirty Monday morning. That's what the concierge had told him when he approached the desk, envelope in hand, to inquire about international Fed Ex service. He shoved a hand through his unruly hair, his heart thudding.
He regretted spending so much time revising the letter, as though it were an English essay instead of a desperate attempt to reach out to the woman he loved. The sooner she received it, the sooner she might begin to forgive him. Perhaps the next time he spoke to Sonya she'd greet him with the news that Elizabeth had called.
And right after that, the Opera House will hop down from its foundation and sail away.
William also regretted his promise not to call Elizabeth. He had given his word and would keep it, though he knew that his letter tested the limits of his promise. Frustration at his helpless state gnawed at him continually, plaguing him with sleepless nights, easily frayed nerves, and a finicky appetite that resisted every temptation.
With the first weekend of concerts behind him, he had too much free time—time to think, to analyze, to worry. His hosts at the Sydney Symphony had been gracious, offering to show him the city and the surrounding area. But he had refused them politely, preferring his own company even in his current depleted state.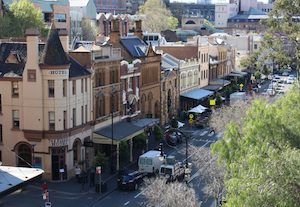 Physical exertion was one of the few calming influences available to him, and he pursued it with obsessive dedication. Each morning he began with an extended run by the harbor, after which he spent an hour or more in the hotel's exercise room. He was exceeding the amount of exercise recommended by his doctor, but so far had suffered no ill effects.
Following this unvarying regimen, he showered and changed and then left the hotel again, this time to walk. And walk. Sydney was a pleasure to explore on foot, sparkling with vitality and carefree warmth. He was particularly intrigued by The Rocks, the historic district surrounding his hotel, and had spent hours wandering its streets, absorbing echoes of the city's past.
On his second day of solitary rambling, a phantom Elizabeth had materialized at his side, her hand clasped with his. At first he had resisted the temptation to indulge in the fantasy, fearing it would only make the reality of her absence more painful, but soon he surrendered to the comfort granted by her imagined presence.
Yet she always vanished at nightfall, when he needed her most. As hard as he tried to summon her wraithlike presence as he lay in the darkness, he remained alone, longing for her as he replayed their few nights together in an endless loop. And so it was that in the interminable hours before dawn he often wandered into the moonlit living room of his suite, seeking comfort at the piano. His music cried out deep into the night as he sought comfort, but each morning his invisible burden settled, solid and stifling, onto his shoulders once again.
At least the concerts had gone well so far. Better than "well," in fact, with three consecutive nights of standing-room crowds, lengthy ovations, and, according to the breathless, pink-cheeked assistant to the music director, glowing reviews in the newspaper.
A ferry bearing morning commuters glided across the harbor, its reflection shimmering in the water as it passed its twin headed in the opposite direction. He glanced up and saw a pair of pelicans swoop gracefully out of the sky in search of breakfast. The birds, even the boats, were in pairs. Only he stood alone.
He pushed himself away from the railing. It was time to decide how to spend his last free day in Sydney. Tomorrow he would spend most of the day in rehearsals with the symphony, and tomorrow evening his second program of concerts would begin. And then he would fly home to New York for Thanksgiving … a Thanksgiving without Elizabeth. Even should a miracle reunite them before the holiday, the New York townhouse was not the place to rebuild a fragile relationship, not with the entire Darcy clan observing from the sidelines.
Left with no better option, he had called his grandmother from Los Angeles to explain that Elizabeth had been forced to cancel her visit. Rose had seemed to accept the vague excuse he offered—an unspecified family problem—but others had voiced skepticism.
"Lost your nerve?" Richard had asked in a jovial tone. "Afraid to bring the poor girl into the arena to be snacked on by the lions?"
"Of course not."
"I just hope you're not cooking up a scheme to sneak off someplace with Elizabeth for a shag-a-thon while I'm left here to deal with Gran's wrath."
William had indeed contemplated sneaking off, though unfortunately he'd be doing it alone. He dreaded the prospect of spending the holiday in New York, imagining what might have been. Yet he couldn't desert his family on Thanksgiving unless he wanted to incur the wrath of the remaining women in his life.
Seeking a compromise, he had called Rose yesterday to suggest a family trip to Barbados for the holiday. The Darcys often spent Easter at Pemberley, but they hadn't done so this year; why not Thanksgiving instead? "And besides," he had continued, displaying uncharacteristic guile, "Georgie says your arthritis is bothering you. Warm weather and sunshine might help."
But Rose had refused to even consider the possibility. "I've invited the Scofields to stay," she had answered tartly. "In any case, we can't just pick up and leave town on a few day's notice, not with so many people involved."
He had one idea left. Sonya had changed his travel plans once more to include a lengthy morning layover in San Francisco on his way home. Perhaps Elizabeth would agree to speak to him when he appeared at her door. In that case his flight onward to New York might depart without him, and perhaps he'd miss Thanksgiving in New York after all.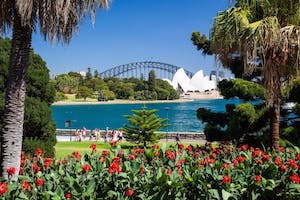 His untouched breakfast awaited him in the living room. He forced himself to take a sip of orange juice and a bite of the bagel before proceeding to the bedroom to dress for his morning run.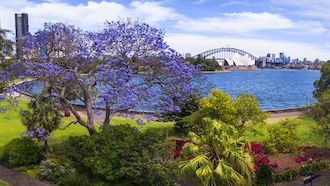 Today he would head in the direction of the Royal Botanical Gardens, his favorite stretch of the waterfront. While he ran amid the jacaranda trees with their profusion of lavender blooms, Elizabeth might be reading his letter. A half-smile curved his lips as he strode to the bedroom, already slipping his robe off his shoulders.
Tuesday afternoon (Sydney) / Monday evening (San Francisco)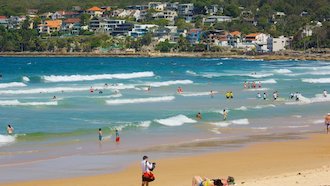 Late that afternoon, William lounged on the sand at Manly Beach and surveyed the horizon. He yawned for at least the third time in as many minutes. Immediately on the heels of his morning exercise routine, he had embarked on the scenic walk from Spit Bridge to Manly, covering a distance of about ten kilometers of varied topography and memorable scenic vistas.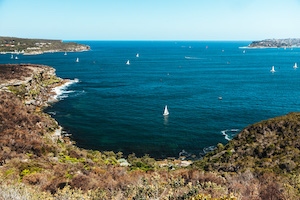 He had arrived in Manly, a northern suburb of Sydney, hot and weary but with a sense of accomplishment. Gulping water from the large bottle in his backpack, he had proceeded along the walkway to the beach and found a patch of sand on which to spread his towel. Since then he had drifted in a state of lazy contentment, lulled by the muffled roar of the waves pounding the beach.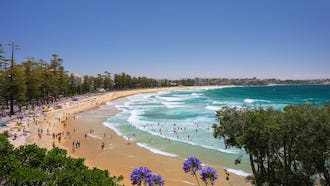 Two deeply tanned young women strolled by, offering an entirely different sort of scenic vista. His eyes widened involuntarily as they settled down nearby to bake in the sun. He wasn't one to openly ogle women, but unaccustomed as he was to topless sunbathing, he couldn't entirely suppress his reaction to the feminine flesh on display.
One of the women, her dark, curly hair heartbreakingly evocative of Elizabeth, sat up and rummaged through her bag. Her head swiveled in his direction and she inspected him with obvious interest, her frank stare sliding over his face and bare chest and then lower. William saw the invitation in her smile but he turned away, flustered, and stared out at the ocean. It wasn't a stranger's embrace for which he ached every night.
He flopped back on the towel, arms folded behind his head. As always, the sound of the ocean soothed him, awakening visions of quiet childhood days amid the primitive beauty of the beach at Pemberley. He closed his eyes and inhaled the briny tang of the sea air, carrying with it a faint whiff of cocoa butter. A puff of wind gusted across his damp, overheated skin and he stretched, luxuriating in the blend of warm sun and cool breeze.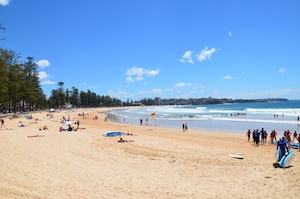 "You look comfortable."
He opened one eye. Elizabeth lay beside him, clad in nothing but a bikini bottom, her skin gleaming in the hot sun. His other eye popped open to devour the view, which instantly rendered every other woman on the beach invisible.
He smiled faintly in answer to her remark and rolled onto his side.
She pursed her lips. "As love letters go, it wasn't particularly romantic."
"It wasn't?"
"You can't seriously believe that pages and pages of rationalization will win my heart."
"But I also said—Ugh!"
William's eyes flew open—for real, this time—and he rubbed his chest, wondering what had hit him. Then he saw the red cricket ball rolling away from him and the boy rushing to retrieve it.
"Sorry, mate," the boy called out, nearly pitching head-first into the sand as he skidded to a halt and snatched the ball. "Joey hit it over my head." Without waiting for a response he galloped away.
William struggled into a sitting position and inspected himself. There was no harm done, just a circular red mark that he was sure would fade quickly, but given the rate at which his heart was pounding his nap was obviously over. He hadn't eaten since breakfast, and although he wasn't hungry he decided to seek out a light meal at one of the cafés near the wharf.
He reached for his shirt, grimacing at the clammy feel of the sweat-soaked cotton; he had forgotten to spread it out in the sun to dry. After a moment's contemplation he folded it and stashed it in his backpack. He'd buy a tee shirt from one of the souvenir shops. It would be fun to own a garment emblazoned with the word "Manly," if only to see Richard's reaction.
As he toweled the sand off his feet and laced his shoes, his brief fantasy or dream—he wasn't sure which it had been—returned to him. He licked his lips, remembering Elizabeth's deliciously minimal clothing. Then he recalled her criticism of his letter. Was it possible that what he had intended as a heartfelt declaration of love had ended, after several drafts, as a clinical defense of his behavior? He had been too proud to prostrate himself at her feet begging for forgiveness at any cost. He had already considered the possibility that the letter wouldn't soften her feelings, but now he wondered if it might make things worse.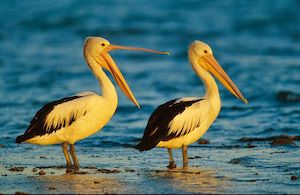 He rested his head in his hands for a moment, rubbing his forehead, and then rose slowly to his feet. In his newly agitated state, the thought of food evoked a shudder of repulsion. Sighing, he collected his towel and backpack and trudged off in the direction of Manly Wharf, where the ferries bound for downtown Sydney departed.
He had nearly reached the wharf when he saw two pelicans standing together on the beach. Although the large birds were a common sight along the Australian coast, he wondered if it might be the same pair he had seen that morning soaring above his balcony. "Thanks for the reminder," he grumbled. "Not that I needed one."