The Darcy Townhouse
I've gotten questions about the living arrangements in the Darcys' New York townhouse. I thought I'd share some information, including floor plans I created during story development so I could visualize the characters moving through the house. This is by no means required reading!
The Basics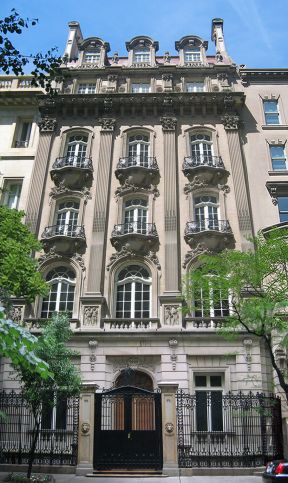 In the story, I placed the townhouse on East 67th Street in Manhattan, half a block from Fifth Avenue (and thus also half a block from Central Park). But the actual house I picked as the exterior model is located at 11 East 62nd Street. It's a five-story house, but I wanted it to have six stories, so Kathy, my Photoshop wizard friend, added an extra floor and created this photo. Can you tell which floor she added?
A single-family home of this type in this general area would probably have sold for $25-$35 million at the time of the story, depending on interior condition and features.
Vital statistics
I thought I had cheated by making the house deeper than it would actually be (especially since I gave it a patio and garden at the rear of the house), but later when a reader found real information about the house, we learned that I was a little stingy with the size. I calculated about 12,000 square feet, not counting the basement, balconies, or terraces, but we later learned that the real house is almost twice that size, despite having only five floors. For one thing, I probably underestimated the width of the house. If I still had the Powerpoint file I used to create the floor plans, I'd revise it. But I kept the original floor plans; they're the ones I used for reference when writing.
Built in the early 1890s of limestone construction, the house has always been in the Darcy family. It was one of the first homes in New York to have electricity. It has six stories plus a basement.
Bedrooms: Six (all with dressing rooms or walk-in closets), plus two maids' rooms in basement which haven't been used in many years.
Bathrooms: Seven full baths (one in the basement), two half baths
Master suite: occupies the entire third floor. Has dressing room, large bathroom, and oversized private sitting room
Public rooms: Living room, dining room, library (all on first floor; library is open to second floor)
Private/family rooms: Family room and breakfast room (second floor), guest sitting room/children's playroom (fourth floor), sitting room (fifth floor), exercise room (basement), greenhouse/conservatory (sixth floor)
Gardens: a small patio and garden behind the house and a roof garden.
Equipped with an elevator
Spiral staircase in center of house has a stained glass roof
Wine cellar, pantry, and walk-in cold storage in the basement
Floor plans
I created these after looking at floor plans for similar townhouses on real estate web sites, since at the time I had no information about the interior of this house. I'm sure I've done some unrealistic things with the location of plumbing or walls or something—I'm not an architect!
(click on a diagram to see a larger image)

.

.

.

.

.

.

The real-world house
A big thank you to Sherri, who did some digging and came up with some history and interior description of the house in the photo (or, at least, the five-story version, before we started editing). I especially wish I had known about the organ!
11-13 East 62nd Street—Upper East Side Historic District (03-6342-Block 1137, lot 11): A Beaux-Arts style residence designed by Haydel & Shepard and constructed in 1898-1900.
The following information came from http://www.nyc-architecture.com/UES/UES016.htm:
The house, at 11 East 62nd Street, New York City, was Margaret Vanderbilt (Mrs. Elliot Fitch) Shepard's (daughter of William Henry Vanderbilt) wedding present to her daughter Edith (1872-1954), bride of the banker, Ernesto G. Fabbri. It was designed by the architectural firm of Haydel & Shepard. The latter partner, August Dennis Shepard, Jr., was related to the bride's mother.




The townhouse's five floors contain 22,500 square feet and include a mahogany paneled 25x41 dining room, gentlemen's and ladies' reception rooms, a ballroom with an ornate plaster ceiling, and a sweeping staircase leading to the second floor, the banister of which supports a pair of Louis XIV-style bronze candelabra with cupids nearly six feet high. The Aeolian organ is in the second-floor music room; the pipe chamber is on the third floor.




The Fabbris lived in the house until 1916, when they moved to 7 East 95th Street (and in 1916 ordered Aeolian Op. 1398, a II/21-rank organ with a Duo-Art player in the console). The house was then sold to Charles Steele. The house, now the Johnson O Conner Foundation, is on the market for $30 million. The organ is still in place, though not playable.




A peculiar aside is given by Louis Auchincloss in Maverick in Mauve (Garden City: Doubleday & Co., Inc., 1983) 131: "Edith Shepard Fabbri was in love with Alessandro Fabbri, her divorced husband's brother, and ultimately had him buried in her lot in the Vanderbilt cemetery on Staten Island."