The CD Covers
This page has some very minor spoilers, but I think they're all things you're expecting to see in the story, and I don't mention when they happen, so I don't think it's a problem. Please let me know if you disagree and I'll add a spoiler warning in future.
(You can see larger versions of any of the CD covers by clicking on the photos.)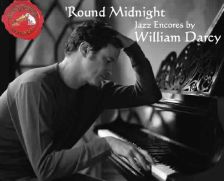 When I wrote the first chapter in which William attempted to seduce Elizabeth, I thought it would be fun to mock up a CD cover for a supposed CD of jazz encores that William had recorded, and that he selected as what he hoped would be appropriate "make-out music" for himself and Elizabeth. It happened that a few months before I wrote the chapter, Colin Firth had done a photo shoot that included several shots in which he was sitting at a piano.
"My" William Darcy in AUS doesn't actually look that much like Colin Firth. But that there is a small resemblance, I shall not attempt to deny. I wrote the first section of AUS about eight years after the 1995 miniseries came out, and for most of us, he WAS Mr. Darcy (as he still is to many). Since then, we've been gifted with other Darcys to choose from; my loyalties are unchanged, but it's great that we have any excellent Darcys to choose among.
A photo shoot of the prototype for Mr. Darcy and a piano—how could I resist? Not only that, but the contemplative, slightly dark mood of the black and white photos suited AUS's William very well.
But I know many readers prefer to be allowed to envision the characters on their own, and don't want the author posting photos of precisely what the character looks like. Plus, as I've already said, the photos didn't look precisely like AUS's Darcy. At the time, I kept the image embedded in the chapter small (quite a bit smaller than the version on this page). Between its size and the darkness of the photo, I thought it didn't stifle anyone's ability to see their own conception of William, and the readers who commented seemed to agree. However, today, instead of putting it in the chapter, I post it here. Kathy, my stalwart beta and Photoshop wiz, helped me to clean up the photo, especially as it relates to adding the RCA seal.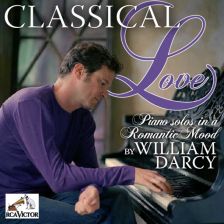 Shortly after I posted some of the chapters in the middle of Part 2, I got an e-mail from a reader and friend named Ellen, sending me a CD cover she had designed with a color photo from the same photo shoot. She figured that William might have been in a romantic mood at that point and might have recorded a CD in that spirit.







After that, I heard from the team creating the Russian translation of AUS. Some members of their discussion forum had also created some CD covers related to the story (again, these are based on Colin Firth photos). The "Four Ballades, Four Scherzi" cover was created by Romi, and the "Piano Concertos" cover is by olja.





A big "thank you" to Kathy, Ellen, Romi, and olja for sharing their creativity and skill!